Kitchen Remodeling Newport Beach, California
Kitchen Remodeling in Newport Beach, CA
Our kitchen remodeling service can turn your dream kitchen into a reality. We offer comprehensive remodeling services that can transform your kitchen into a modern, functional, and stylish space that meets your needs and exceeds your expectations.
If you are trying to make the most impactful change to your kitchen, you need to hire a professional and skilled remodeling company that specializes in kitchen renovation and layout design. Our high-quality contractors can guide you through the entire renovation process. 
Our team can transform your outdated kitchen into an open floor plan, a modern and luxurious, and easy-to-use area. We can completely redesign the layout of your kitchen cabinets and countertops. No matter what changes you would like to make, our renovation experts have the skill and experience to achieve your goals.
Top Rated Kitchen Remodeling in Newport Beach, California

At Modern Renovations, our remodeling professionals understand that you have a vision for what you want your kitchen to look like. When you hire us for your remodeling project, we will customize all of our services to your exact needs. After our efforts, your dream kitchen will become a reality. You and your family are guaranteed to be completely satisfied with the results of our remodeling work. You will be completely pleased with your new kitchen for years to come.
Newport Beach top Kitchen remodeling company
For over 15 years, Modern Renovations has been California's top remodeling company in residential renovations. From start to finish, the Modern Renovations journey is professional and streamlined, with results that speak for themselves.
Transform Your Kitchen with Our Remodeling Services
Our experienced team of kitchen designers and contractors will work with you to create a custom plan for your kitchen remodel that meets your specific needs and budget. We understand that every homeowner has different requirements and preferences, so we offer a range of remodeling options, including custom cabinets, countertops, lighting, flooring, and more.
We use only the highest quality materials and the latest technology to ensure that your new kitchen is not only beautiful but also functional and durable. We'll work closely with you to ensure that every aspect of your kitchen remodel meets your needs and is within your budget.
We take pride in our work and strive to deliver exceptional results for every kitchen remodeling project. Our team of skilled contractors is dedicated to ensuring that your kitchen remodel is completed on time and on budget, with minimal disruption to your daily routine.
Start Your Kitchen Remodeling Project
Here is how our proccess works
Contact us today to get a free quote and schedule a meeting with one of our highly skilled team members.
Our team of highly skilled designers will create a remolding plan that's not only modern and appealing but also will add value to your property.
Our contractors get to work renovating your property. We will provide superior remodeling services that will exceed your expectations.
Kitchen Remodeling Newport Beach
A modern kitchen can add value to your house in several ways:
A modern kitchen can add value to your house in several ways:
Increased functionality: A modern kitchen can be designed to be more functional and efficient, which can make it more attractive to potential buyers. For example, a larger kitchen island or a double oven can make it easier for the homeowner to cook and entertain guests.
Energy efficiency: Modern kitchen appliances are designed to be more energy-efficient than older ones, which can save the homeowner money on their energy bills. This is an attractive feature to potential buyers who are looking for ways to save money on their monthly expenses.
Aesthetics: Modern kitchens often feature sleek, contemporary design elements that can make them more visually appealing. A well-designed modern kitchen can create a luxurious, high-end feel that can be a selling point for buyers who are looking for a modern, up-to-date home.
Upgraded features: Upgrading old features like outdated cabinets, countertops, and flooring can significantly improve the appearance of a kitchen. Additionally, replacing old plumbing and electrical systems can make the kitchen safer and more functional, which can be a significant selling point for potential buyers.
Increased home value: A modern kitchen can increase the overall value of your house. According to Remodeling Magazine's 2021 Cost vs. Value report, a minor kitchen remodel has an average national return on investment (ROI) of 72.2%, while a major kitchen remodel has an average ROI of 59.7%.
Need Professional Kitchen Remodeling Services?
Contact Us Today for a Free Estimate.
Contact us today to schedule a consultation and let us transform your kitchen into a space you'll love for years to come.
Kitchen remodeling typically involves the following steps: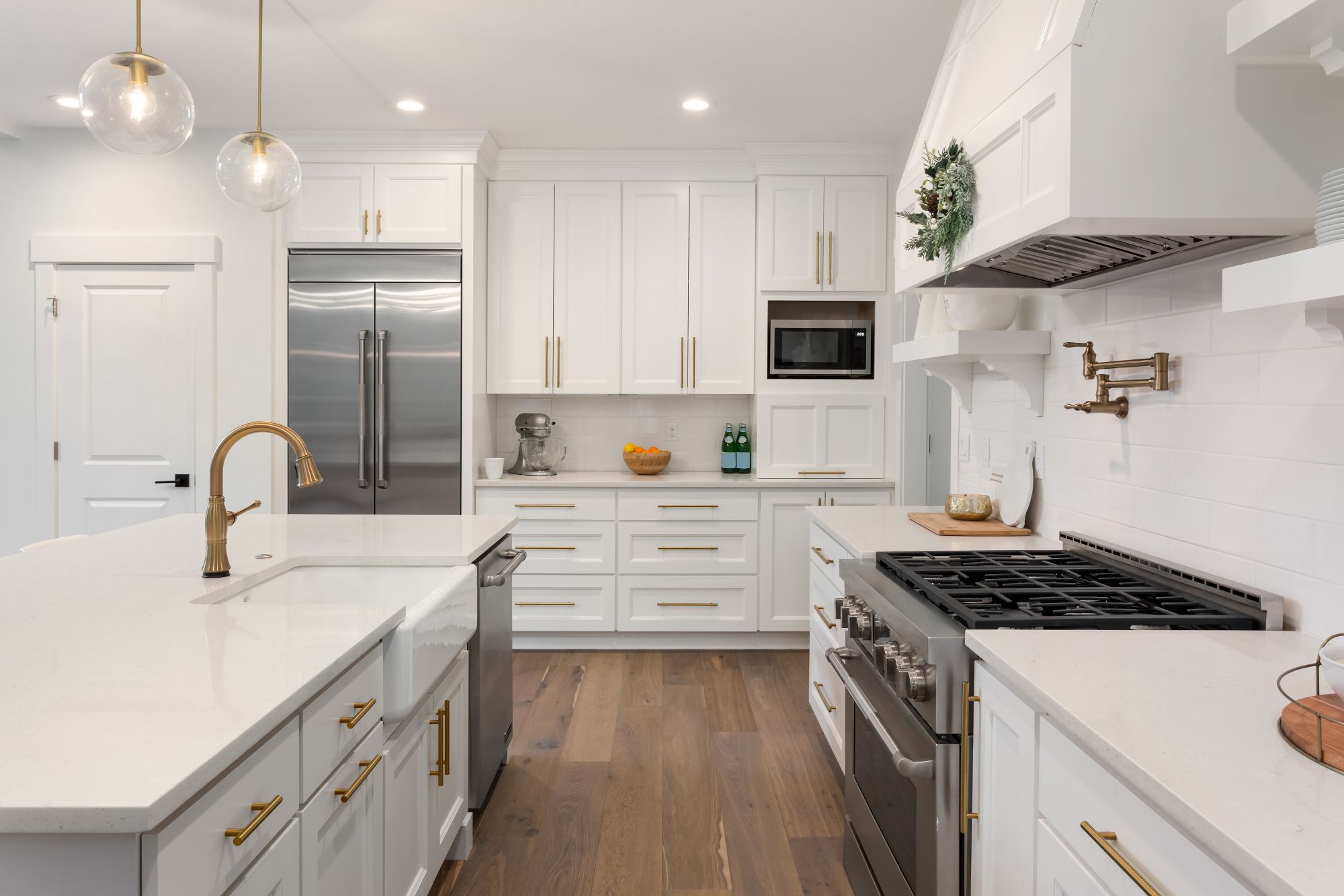 Planning: This involves creating a design plan for the new kitchen, including the layout, the style, the features, and the budget. It is important to consider the homeowner's specific needs, preferences, and lifestyle.
Demolition: This involves removing the old kitchen cabinets, countertops, flooring, and other features that need to be replaced. It is important to work with a professional contractor to ensure that the demolition is done safely and efficiently.
Electrical and plumbing work: This involves installing new wiring, lighting, and plumbing fixtures, as well as updating or relocating existing ones. It is important to hire licensed professionals to perform this work, as it can be complex and potentially dangerous.
Installation of new features: This involves installing new kitchen cabinets, countertops, flooring, appliances, and other features, such as a kitchen island or a backsplash. It is important to work with a professional contractor to ensure that the installation is done properly and meets all safety and building code requirements.
Finishing touches: This involves adding finishing touches, such as painting or staining the cabinets, installing hardware, and adding decorative features such as lighting, artwork, or window treatments.
Final inspection: This involves a final inspection of the kitchen to ensure that all work has been completed properly and meets all building codes and safety requirements.